Lori Cieckiewicz, Family Lawyer of the Year 2011
On October 4, 2012 Lori was awarded 2011 Family Lawyer of the Year by the Hudson County Bar Association and the Hudson County Bar Foundation, "In recognition of her distinguished career as an attorney in the field of Family Law". Thanks to all who attended for coming out to celebrate.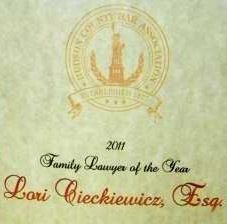 Posted By
Lori Cieckiewicz, P.C.
Categories: